Subscriptions allow coaches to take full advantage of all features and distribute plays, playlists, and enable mobile access to their players. To purchase a subscription, click on the Create a Team button in the Your Teams section of your home dashboard screen. More information on how to set up a team and invite members can be found here.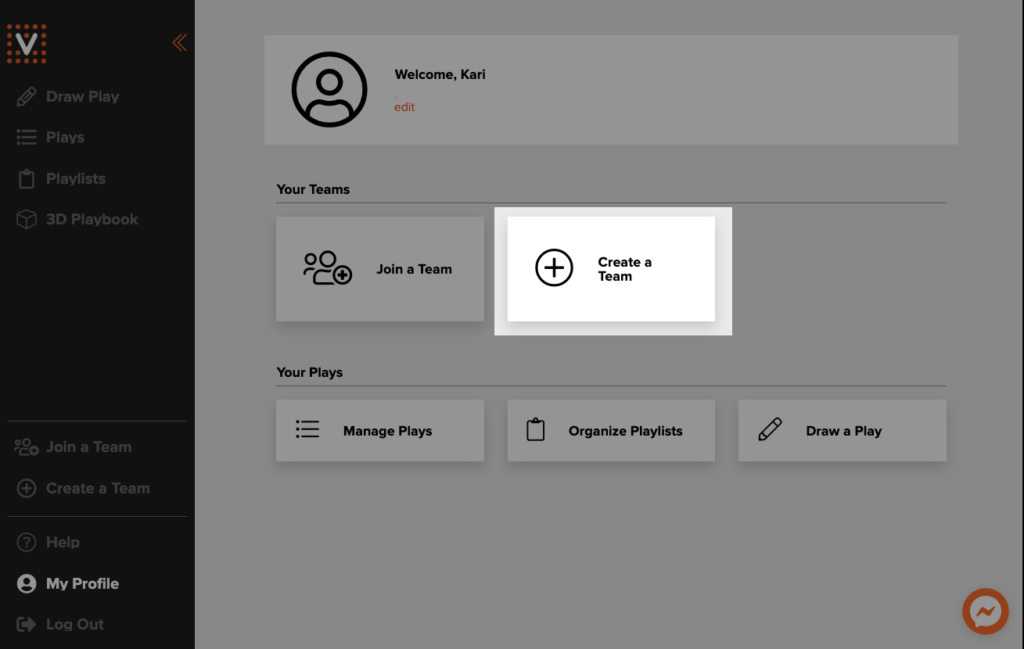 One subscription grants access to create one team. If you're coaching three teams and want to fully utilize all features of the app, you'll need three subscriptions, one for each team. Key features in a standard subscription include:
Mobile app access for team coaches and players
Mobile app access for plays you create
Manage your play library
Player usage and performance insights for coaches
Live chat and email customer support
We offer both annual and monthly billing options. Subscription price and relative rate is listed on the subscription page. To purchase a subscription, first provide contextual information about your team such as competition level, name, and location, then enter payment information on the second page.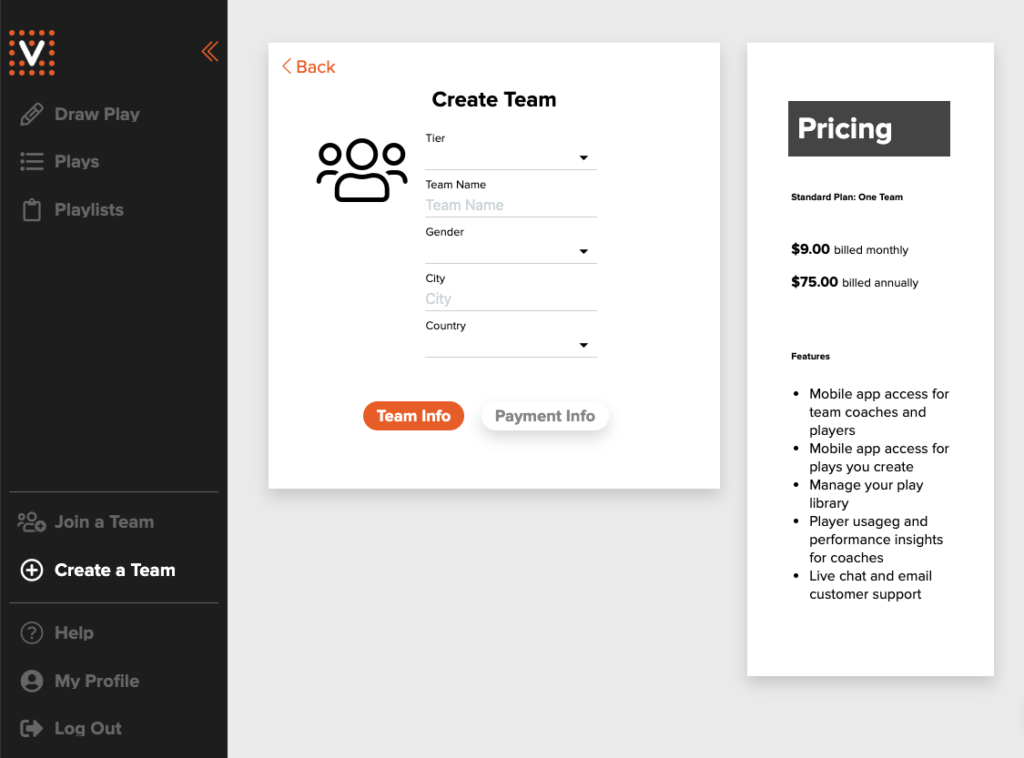 Starting a Subscription
Once your team is created, you can start a new team subscription from the Manage Subscription tab.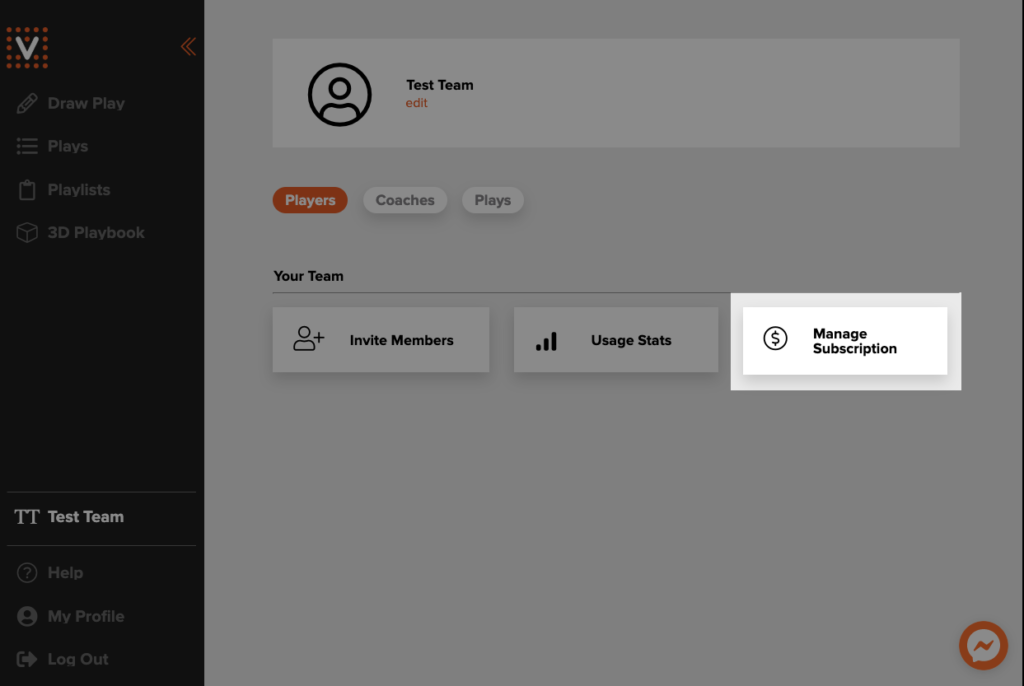 On the Manage Subscription page, you can switch between annual or monthly subscriptions, update your payment information, see your payment history, and cancel your subscription.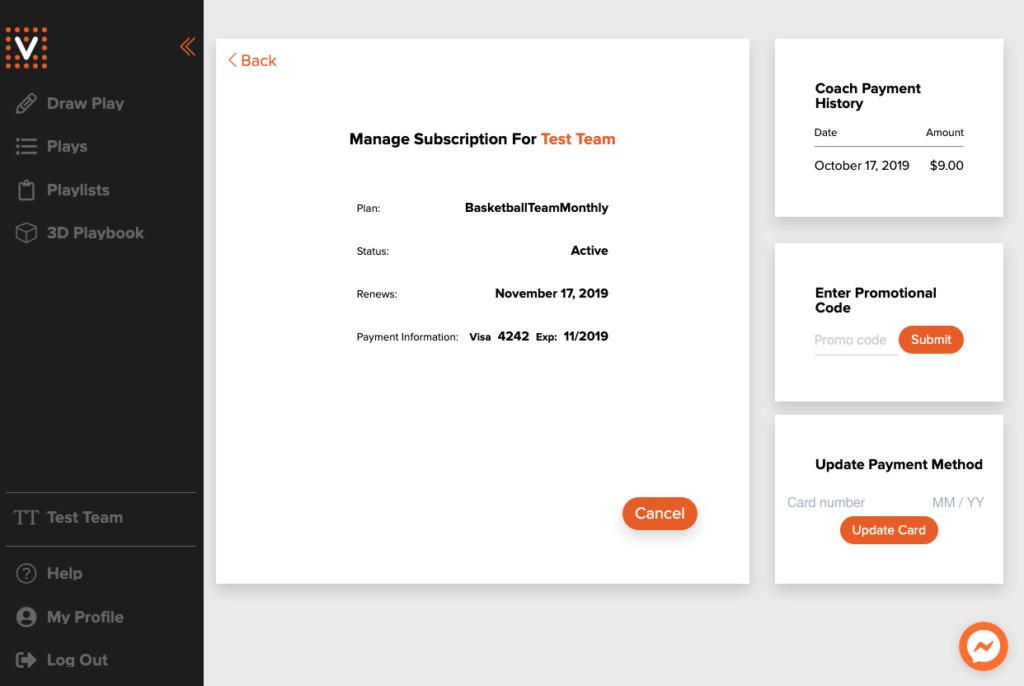 Managing a Subscription
Use the Update Payment Method section to change your payment information or enter a promotional code.
Cancelling a Subscription
Select the Cancel button to cancel your team subscription and prevent automatic renewal of your subscription. You will retain access to all features until your purchased subscription runs out. After cancelling, this will be replaced with a Renew Subscription option, allowing you to re-enable automatic renewal at any time before the current duration ends.
Have Questions?
If you have any further questions about the subscription service or its included features, feel free to contact us using the customer service messaging application in the bottom right, or email us at contact@vreps.us.